THE JOSHUA CODE - 52 SCRIPTURE VERSES EVERY BELIEVER SHOULD KNOW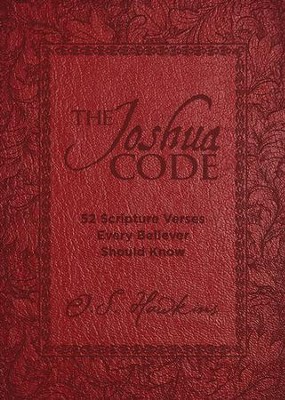 The Joshua Code is found in Joshua 1:8, "This Book of the Law shall not depart from your mouth, but you shall meditate in it day and night, that you may observe to do according to all that is written in it. For then you will make your way prosperous, and then you will have good success." The 52 chapters in this volume are designed to lead the reader on a yearly journey by spending a week on one particular Scripture, memorizing it and meditating on it, so it becomes a living part of our very being. The outlines in each chapter can also be used by the busy pastor or Bible teacher as a guide to challenge their hearers in a year of Scripture memory and meditation.
All author's royalties and proceeds from sales are distributed to GuideStone's Mission:Dignity ministry.
Bulk pricing available from ChurchSource.com. Call 1-800-727-3480.
Buy on Amazon Buy on B&N Buy on Christianbook Buy on LifeWay Buy on BAM!